7 Things You'll Need for Nursing School

Are you getting ready to start up nursing school? Nursing school is a huge step towards a rewarding, if not exhausting, career. You'll likely feel all the excitement, anticipation and nervousness that every new nursing student gets. This is totally normal. A great way for you to relieve some of these feelings and get a head start on your career is to get your nursing school supplies. Here is our list of the top things every nursing student will want to have!
1. Scrubs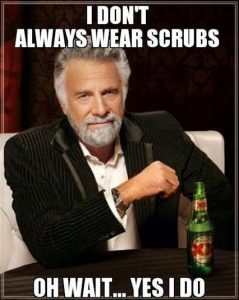 All jokes aside, having the perfect scrubs to wear is seriously important. You'll be wearing these all the time and you'll want to have just the right ones. Make sure you read through all the guidelines that your nursing school gives you to make sure you meet the specifications. These can include types, colors or brands that are allowable or not.
If at all possible, get scrubs with pockets. You will be carrying around so many little items that you'll want as many pockets as you can.
2. Comfortable shoes
Take your time to find shoes that are comfortable and that you like. Just like your scrubs you'll be spending a lot of time in these shoes. Everyone has their own preferences but some favorites are Dansko Clogs, Cherokee Workwear and Nurse Mates. All these shoes are designed with comfort and stability in mind. Having happy feet is definitely something you can control!
3. Stethoscope
A lot of the supplies will be provided by your school and once you graduate by your job. But we recommend getting a nice stethoscope. You'll want to research this out because a cheap one isn't going to good option for you. You want something that lets you hear exactly what you need to hear. The top stethoscopes can retail for $300+ but there are many other options out there. Be sure to get one that fits your ears well and has good acoustic sensitivity at the right price.
4. Penlight
A penlight is another one of those "must have" items for every nurse. They are extremely important for neuro assessments and oral assessments. They are the perfect size for sticking in your pocket or attaching to a clipboard. Plus it does the job if you need a quick light in your bedroom and don't want to turn on the light!
5. Click Pen

Which brings us to the next item on our list, a click pen. Not one with a cap. You'll lose the cap and then get pen ink all over your scrubs. Nurses are notorious for obsessing over their own pens. Do yourself a favor and buy a good pen that you can connect to your scrubs. And don't let anyone else touch it. Ever.
6. School Supplies
Remember that nursing school is just that, school. Get yourself a student planner to keep track of your activities and take notes. You'll want a study guide book on how to take NCLEX exams. These exams are very different from any other exam so it is good to prepare for them. Medscape offers a free comprehensive app to help out medical professionals. These tools can help make your experience at nursing school even more memorable and positive
7. A Great Outlook on Life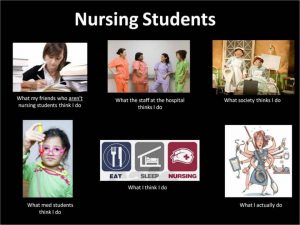 Having a positive outlook is just good advice for anyone, but it especially applies to nursing school students. Nursing school isn't for everyone, there is a lot of work and preparation that goes into what you do. But there isn't anything that is so satisfying and rewarding that doesn't take a lot of effort. The more you put in and take everyday with a realistic, positive view the more satisfaction you'll end your days with.
At Blake Austin we are here to make sure that you have a fantastic experience at nursing school. Vocational nursing is an exciting, rewarding career path. We make sure that our students are well prepared to take the NCLEX exam and to have an upwardly mobile career.  Our school is affordable and a comprehensive learning experience. Call us to find out more today!